80th Birthday Invitations
Feeling a bit stressed about choosing the perfect 80th birthday invitations? Your party invitations should set the tone for your event as well as get your guests super-excited about the celebration.
This article will help you quickly find the best invites, and also offers helpful etiquette tips and invitation wording samples.
This post may contain affiliate links. For more information, visit the disclosure page.
80th Birthday Invitations for Women
80th Birthday Floral Party InvitationsCHECK PRICE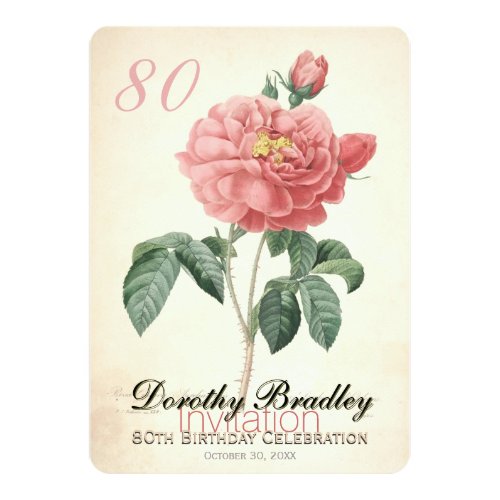 Vintage Rose 80th Birthday Celebration Custom InvitationCHECK PRICE
Sip Sip Hooray Party Invitations for WomenCHECK PRICE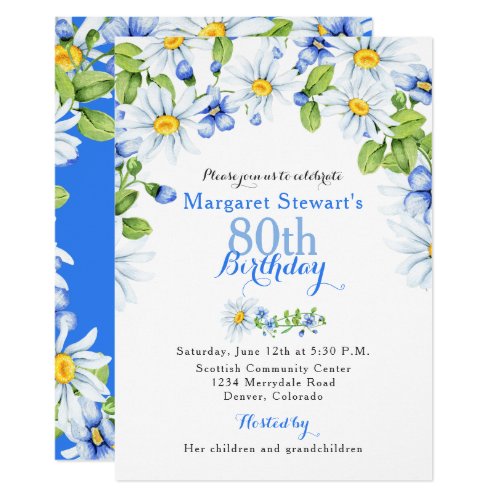 Blue White Country Daisy Party InviteCHECK PRICE
80th Birthday Floral Photo InvitationCHECK PRICE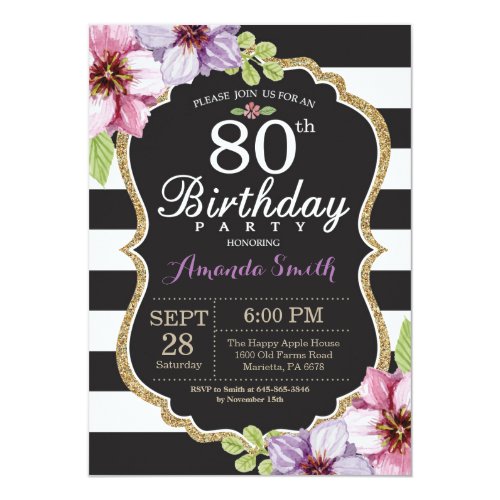 Floral with Gold and Black Stripes Invitations for WomenCHECK PRICE
If you're planning an 80th birthday party for Mom, Grandma or another special lady, consider getting invites that feature more feminine touches. Depending upon her tastes, your party might feature pastels, pinks, florals, glitter and other more girly decorations.
To make party planning super-easy, look for invitations that feature matching party decorations and supplies.
You can go ahead and order your invitations and your party decorations at the same time, so you'll know that everything matches. And as a bonus – you'll probably save on shipping!
80th Birthday Invitations for Men
Looking for great 80th birthday invitations for Dad, Grandpa, or another special man? Here are a few of the most popular invites:
The Man, The Myth, The Legend Invitation for MenCHECK PRICE
Funny Birthday Invitation for Men with PictureCHECK PRICE
Cheers & Beers to 80 Years Party InvitationsCHECK PRICE
Classic Car 1938 Birthday Invite for a ManCHECK PRICE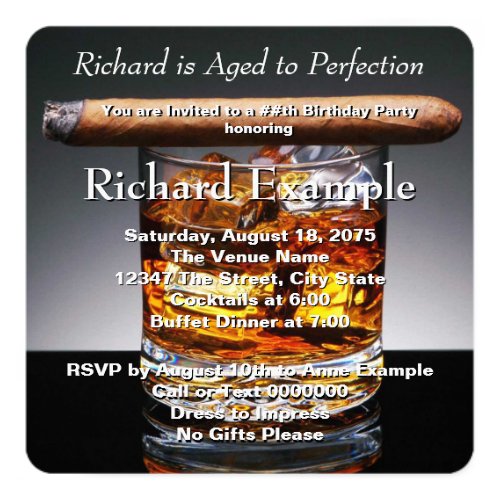 Whiskey and Cigar Birthday Party InvitationCHECK PRICE
Casino Themed Birthday Party InvitationCHECK PRICE
When choosing invitations for men, look for more masculine, darker colors. You could also consider incorporating one of his hobbies into the invitations.
Some of the more popular themes include beer, cocktails, cars and sports.
80th Birthday Photo Invitations
Then & Now 2 Photo Party Invites – Choice of 6 ColorsCHECK PRICE
80 Years in the Making Then & Now 2 Photo InvitationsCHECK PRICE
80th Birthday Invitations with 6 PhotosCHECK PRICE
Celebrating 80 Photo Invitations – Choice of 4 ColorsCHECK PRICE
Party Invitations with 1 Picture – Gold, Black or SilverCHECK PRICE
80 & Fabulous Glittery Party InvitationCHECK PRICE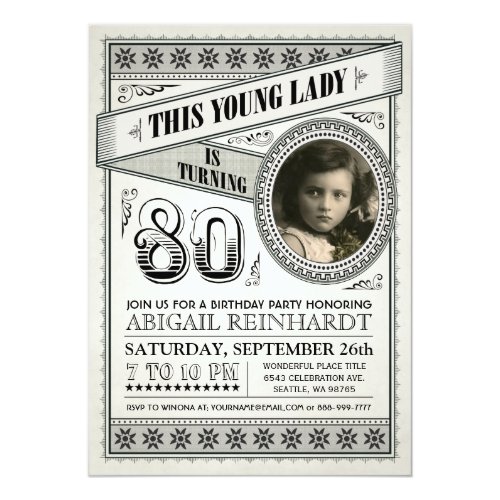 Young Lady/Young Man Vintage Birthday InvitationCHECK PRICE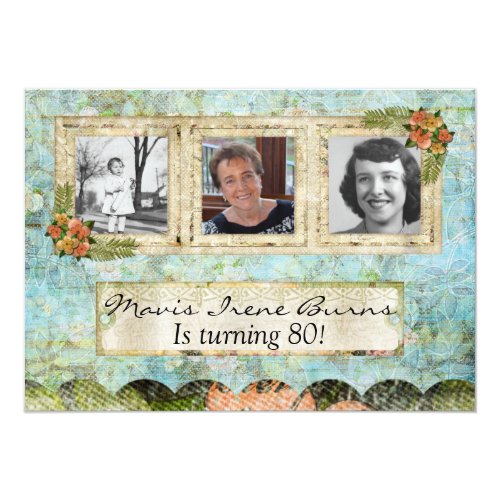 Shabby Chic Photo 80th Birthday Party InvitationCHECK PRICE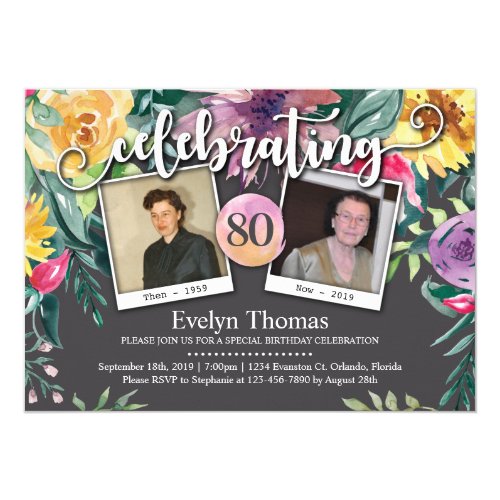 2 Photo Party Invitation for WomenCHECK PRICE
For milestone birthdays, it's fun to use photo invitations.
Try to use a cute picture of the birthday celebrant as a child – it's so much fun for everyone to see how much he or she has changed over the years!
You could also choose photo invitations that allow you to use multiple photos.
80th Birthday Surprise Party Invitations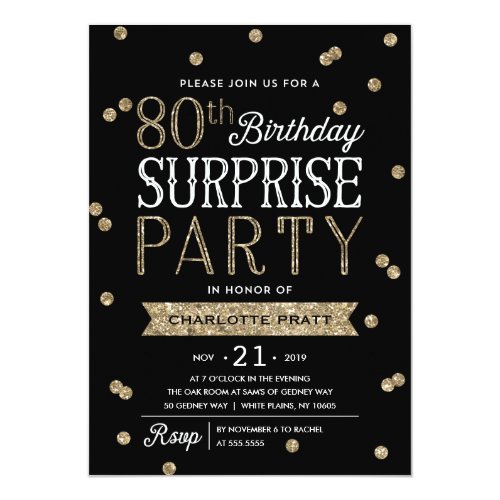 80th Glitter Confetti Surprise Party InvitationCHECK PRICE
Surprise Party Invitations with 2 PhotosCHECK PRICE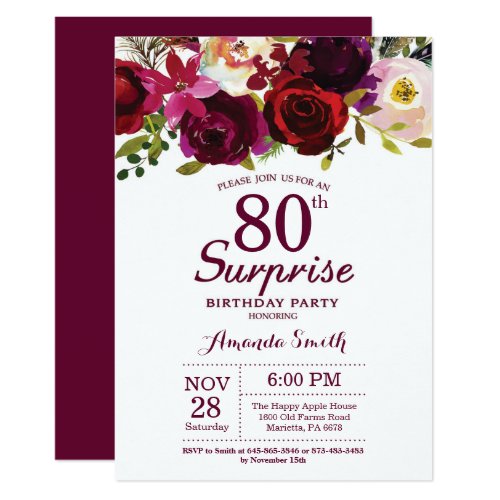 Floral 80th Birthday Surprise Party InvitationCHECK PRICE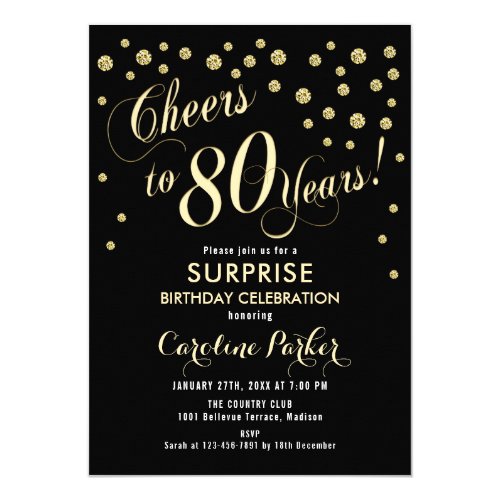 Cheers to 80 Years Surprise Invitation – 10 ColorsCHECK PRICE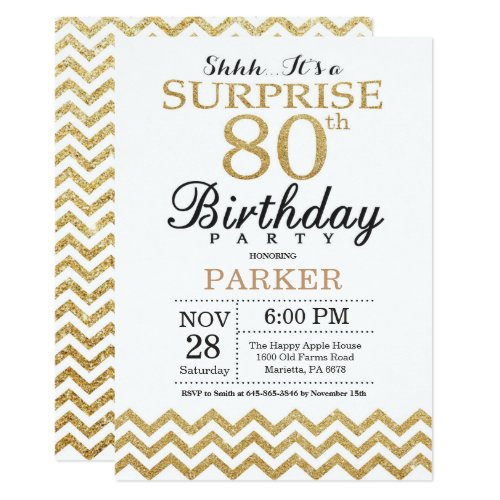 White and Gold Surprise 80th Birthday InvitationCHECK PRICE
Chalkboard Surprise Birthday Party InvitationsCHECK PRICE
How fun to plan a surprise party! Make sure your invitations let your guests know that the celebration is meant to be a surprise.
Look for cards that feature "Surprise Party" in big bold letters so no one misses the point.
Free 80th Birthday Party Invitations
Templates to Download for Free!
There may not be such a thing as a free lunch, but there are free 80th birthday invitation printables!
Canva.com offers over 300 free invitation templates, such as the ones pictured above. You can easily edit the templates in your browser (no software to download!).
You will need to sign up for a free account, but they're really good about not emailing loads. And as a bonus, you can easily create other printables to use at your party.
Tip: Once you've designed your invitations, you might want to use the graphics to create other printables such as cupcake toppers, welcome signs or other printables for your party! It's a great way to save money.
The designs are usually free. However, some of them feature elements that will cost you $1 (for example, both of the top invitations I show above cost $1).
Once you've finished your design, you can download the template and either print it at home or take it to your local Walmart or office supply store for printing. They also offer an option to print the invites for you (I've never actually used this).
Don't worry if you're not a graphic designer! Canva is incredibly easy to use – watch this quick video if you need any help.
80th Birthday Invitation Tips
Choosing the Right Invitations
If you want to use certain colors for your party, try to find invitations that reflect those colors.
If you're hosting a formal party, choose elegant invitations.
If you're planning a themed party such as a tea party, luau, or BBQ, look for invitations that reflect that theme. You can usually add the information that's it an 80th birthday party.
When to Order Invitations
Order your invitations as soon as you've decided on when and where the party will be. Although you can get invitations sent to you in 2-4 days, you'll usually pay a pretty heft expedited service fee.
Most sites take around 10 business days to print and have the invitations delivered to you (check each website for details as the shipping times vary).
You'll then need to plan time to address the invitations and mail them.
Allow at least one week for your recipients to receive the invitation after you've mailed them.
When to Send Invitations
For a formal party or a large bash, it's recommended that you send invitations out at least 8 weeks in advance. For a more casual get-together, 2-3 weeks is enough time.
Many times for an 80th birthday party, out-of-town family and friends will want to attend. To allow them time to book flights and hotel reservations, you could either send the invitations earlier, send a save-the-date card, or simply call them or email them as early as possible.
80th Birthday Invitation Wording
All party invitations should include the reason for the celebration, the date and time, and address of the party.
If needed, be sure to include RSVP information, as well as the date the guests should respond by. You can always specify "Regrets Only" if you only need to know if the invitees are not coming.
Be sure to mention any attire information – you could always add it in small letters at the bottom of the invitation.
How to Request No Gifts
In times past, it was considered quite rude to mention gifts on any type of invitation. However, it's now considered acceptable to indicate that the honoree would prefer to not be given presents.
Birthday party etiquette suggests that attendees bring gifts to the party. If you'd prefer not to have any gifts, here are several ways to indicate that on the invitation (usually in smaller letters at the bottom)
"No gifts, please."
"Your love and friendship is the only gift desired."
"No gifts, please. Your presence on this special day will be the cherished gift."
"Your presence is gift enough."
"May your good wishes be your only gift to (celebrant's name)".
If you're worried about mentioning gifts on the invitation, you can always spread the word via phone call.
Tips on Formal 80th Birthday Party Invitation Wording
For a formal event, the tone of the evening should be set by using elegant invitations.
Dates, numbers and times are usually spelled out.
An example would be:
"Please join us for cocktails to celebrate
Margaret Mann's eightieth birthday
in the garden at 5900 Bluegate Drive on
Wednesday, the thirtieth of July
two thousand and twenty-one
at eight o'clock in the evening
Regrets only
Cocktail attire"
For clarity, the party date and year should be on separate lines.
80th Birthday Invitation Sample Wording
A reason to celebrate, a reason to dine,A reason to enjoy good company and wine…
Cynthia Johanson is turning 80!
Please join us for a delightful evening with friends.
November 15,2021 6:00 pm Tarrytown House 52 West Summerset Drive
RSVP to Linda by November 1 303.714.2212
Surprise 80th Birthday Party Invitation Wording Ideas
Shhh….it's a Surprise!
Cynthia is turning 80!Join us as we celebrate the big day
Sunday, April 30 from 6:00 pm to 10:00 pm
Capricorn Bar & Grill55 Highlands RoadAugusta
RSVP by April 10 to Kris at 555.892.0127
Be sure that you spell out very clearly that the party is a surprise.
If you room on the card, you might want to specify the time the guests should arrive as well as the time the honoree will arrive.
That way, if the guest is running late, he or she can plan to arrive AFTER the honoree and not spoil the secret.
Dance Party Invitation Sample Wording
You are cordially invited to come dance the night awayIn honor ofSuzanne Lawson's 80th Birthday!
Saturday, May 158:00 pmThe Bright Lounge1515 Bluegate DriveChicago, IL
Regrets only to Susan – 800.660.1515
Funny Invitations Sample Wording
Celebrating the 59th Anniversary of his 21st Birthday
Henry is turning 80!
Saturday, May 19 at 6 o'clock
Perry's Steakhouse Downtown
Dinner, Drinks, and Cake!
RSVP 321-555-2389
80th Birthday Invitation Wording Ideas
Please join us as we celebrate the 80th birthday of Amelia Potter with cocktails and cake!
Saturday, September 30 at 7:00 pm
The Potter Residence790
Timberpine Drive
Naples, FL
Hosted by Elizabeth & Henry Potter
RSVP to Elizabeth at 921.894.5671 by September 15
Sample Invitation Wording Ideas
80th Birthday Celebration honoring Martin Gardner
Saturday, October 15th 8:00 pm – Midnight
Drinks and Dancing at Tavern on France
3809 France Avenue North Pittsburgh, PA
RSVP to Clea Matthews 254.556.1198 by October 1st
80th Birthday Invites Example Wording
Allen is turning Eighty!
Please join us
For a party in his honor!
Saturday, July 21st
6 o'clock in the evening
The Italian Eatery
7085 Westview Blvd Boston
RSVP to Janice by July 10th 882-023-4412
Improve with Age Wording Idea
Friendships are one of the few things that improve with age!
Please come celebrate Nate Madison's 80th Birthday and a lifetime of good friendship
July 15th at 6:30 p.m.
12211 Melbourne Ct Gary, IN
RSVP by July 2 to Sara (771) 555-1238
Celebrate Invitation Wording Example
All birthdays are good,
But this one is great
So let's get together to celebrate
Jim Landerson's 80th Birthday
Saturday, April 9th
11:00 a.m. – 3:00 p.m.
Carlton Community Center
8500 Pittenger Terrace Carlton, OH
RSVP by April 1st Rachel (816) 769-4423
You Might Also Like: