Brilliant 80th Birthday Cards to Buy or Print at Home for Free
Surprise your loved one with the perfect 80th birthday card!
It's not every day that someone turns 80 years old, so make it a special occasion. We've chosen the best selection of 80th birthday cards that you can buy. We've also designed a few cards that you can print at home -for free!
Pick out your favorite card today – and don't forget to write a heartfelt birthday wish to make it even more special.
Jumbo Cards
Thing big on this special occasion and send giant greetings with an oversized card! A ginormous card is sure to put a huge smile on the recipient's face.
Zazzle has a fabulous collection of oversized cards in 3 sizes. The largest is 3 ft x 4. Imagine the surprise and delight on the recipient's face when it arrives in the mail!
There's loads of room for family and loved ones to write special Happy Birthday greetings. Be sure to use a sharpie for best results!
It ships in a giant envelope (with a novelty oversized stamp) and is sure to be noticed – the perfect combination of gift and greeting card!
If you have photos available, choose one of the cards that has room for a photo collage.
Black and Gold Giant 80th Birthday CardCHECK PRICE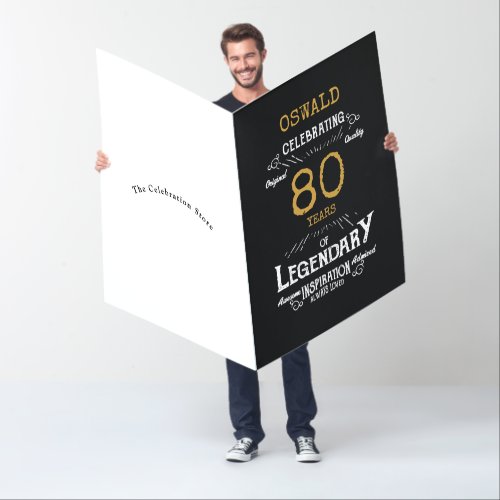 Personalized Celebrating 80 Years Jumbo Birthday CardCHECK PRICE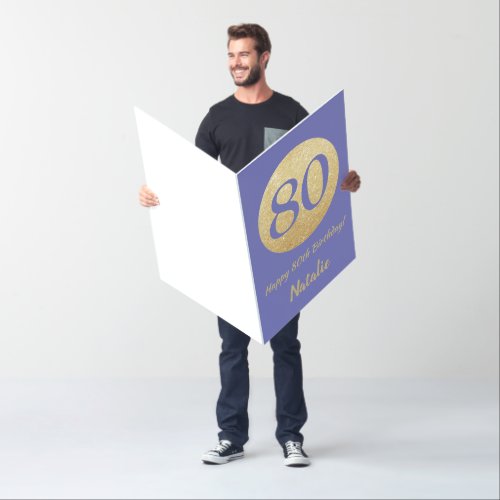 Personalized Jumbo Card – Choice of ColorsCHECK PRICE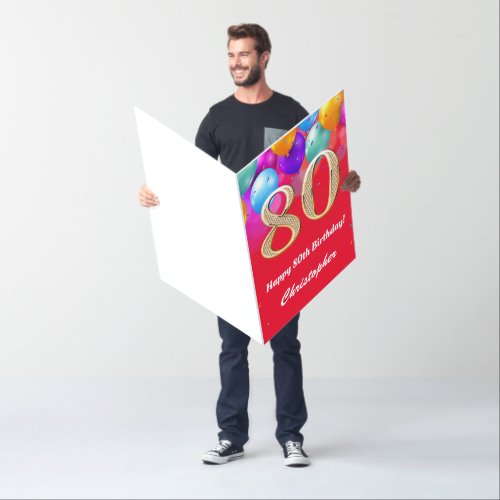 Personalized Birthday Red & Gold Balloon Oversized CardCHECK PRICE
Read Related Article: Top 50 Gifts for Someone Turning 80
Cards with Trivia
An 80th birthday is a wonderful time to reminisce and look back at how much life has changed over the past 80 years.
The birthday honoree – as well as family and friends – will enjoy cards such as the one pictured above that feature facts about what life was like when they were born.
The 24 page greeting card (with included envelope) is full of advertisements, cost of living facts, popular baby names, famous births and all the headline news from 1942. A great trip down memory lane!
Funny 80th Birthday Cards
Add some extra fun and laughter to the occasion by giving the birthday man or woman a witty birthday card. There are plenty of funny 80th birthday cards available online and in stores, so you're sure to find one that suits the birthday honoree's sense of humor.
Many of these cards feature jokes about getting older, being more forgetful, or having more aches and pains. Cards like this are all in good fun, but you probably want to avoid "Over the Hill" type jokes. Those are more appropriate for younger people.
80th Birthday Cards for Mom
It can be difficult to find the perfect birthday card for mom. After all, she's the one who has always been there for you, through thick and thin.
You want to find a birthday card that expresses your gratitude and love, while also reflecting her unique personality. If Mom has a sense of humor, choose a card that is funny or sarcastic. She'll appreciate the laugh!
If she's a traditionalist, choose a card with a classic design but be sure to add a heartfelt message of love and wishes.
If possible, add photos to Mom's birthday card…she'll appreciate the extra time and effort, and enjoy the pictures of loved ones and special times.
The card pictured above is available in 3 sizes at Zazzle. I'd recommend using the largest size so that Mom can see the pictures better.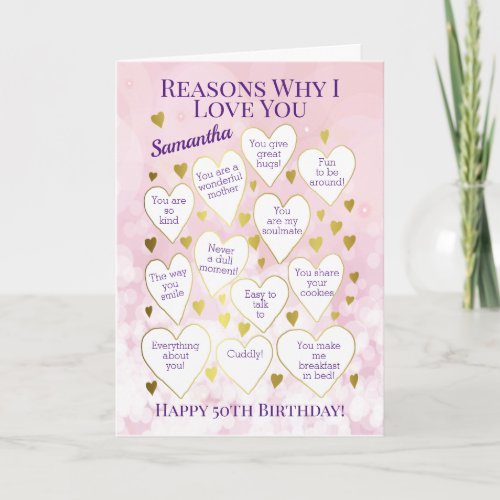 Any Age Personalized Reasons Why I Love You CardCHECK PRICE
Sentimental Hallmark Birthday Greeting Card for Mom (Purple Flower)CHECK PRICE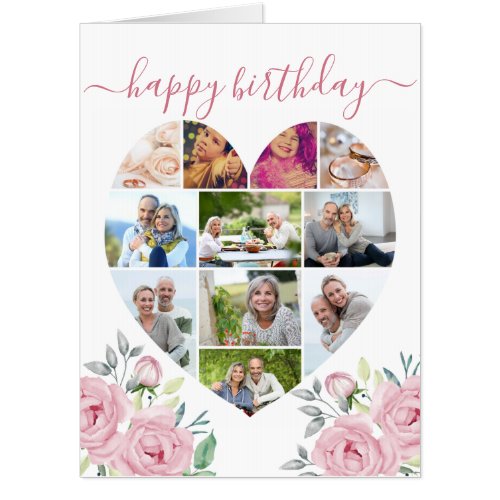 Heart 11 Photo Collage Pink Peony Big Birthday CardCHECK PRICE
Papyrus Birthday Card for Mom (Endless Toasts)CHECK PRICE
Read Related Article: 25 Brilliant 80th Birthday Gifts for Mom
Cards for Women
Make sure to pick out a card that really speaks to her personality – and your relationship. Choose a fun and festive card for a party lover, or a sentimental and heartfelt card for someone close to you.
You can also choose a card that features one of her favorite things, such as flowers or her favorite animal. Don't forget to add your own personal message expressing your love and well wishes!
Floral Happy 80th Birthday Card for HerCHECK PRICE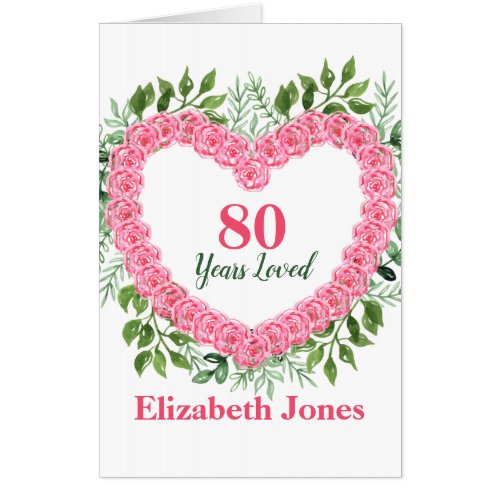 Jumbo 80 Years Loved Greeting CardCHECK PRICE
The Senility Prayer for Women Funny CardCHECK PRICE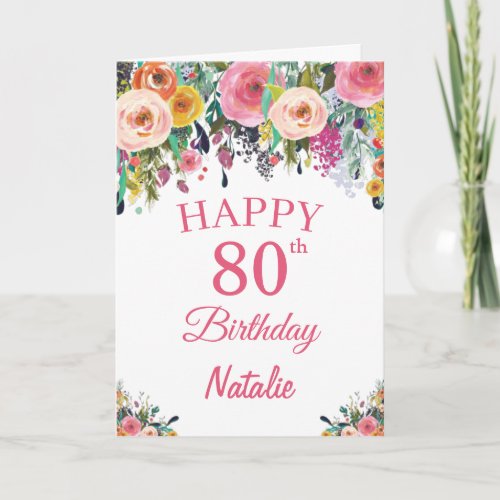 Personalized Floral 80th Birthday Card for HerCHECK PRICE
Read Related Article: Top 80th Birthday Gift Ideas for Women
80th Birthday Cards for Dad
It can be tough finding the perfect card for Dad – after all, how do you sum up all the amazing things he's done for you over the years? Be sure to choose a card that celebrates his milestone birthday in style!
If you have pictures available, take a few extra minutes and create a photo collage card for your father. The one pictured above from Zazzle is fast and easy to make, and your Dad will treasure the extra effort.
American Greetings Sentimental Birthday CardCHECK PRICE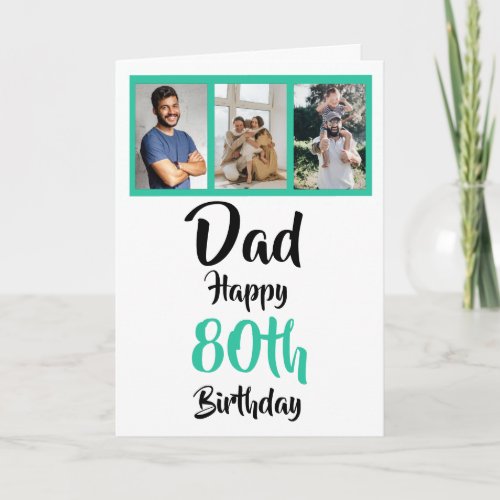 Happy 80th Birthday Dad Photo Collage CardCHECK PRICE
Hallmark 80th Birthday Pop Up Card (Celebrating You)CHECK PRICE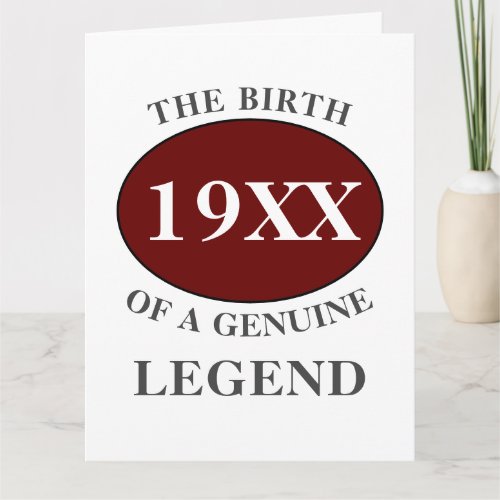 The Birth of a Legend Personalized CardCHECK PRICE
Read Related Article: Perfect 80th Birthday Gifts for the Picky Dad
Cards for Men
For most men, turning 80 is a significant milestone. It's a time to celebrate and long and full life!
Make him laugh out loud with a funny card, or warm his heart with a sentimental card that expresses your love and admiration for him.
Read Related Article: Impressive Gifts for the Man Turning 80
Pop Up Birthday Cards
Pop-up birthday cards are a fun way to make a lasting impression! Unlike traditional cards that lay flat, pop up cards feature three-dimensional elements that "pop" up when the card is opened.
This added element of surprise is sure to put a smile on the recipient's face! So if you're looking for a truly unique way to say "happy birthday", consider sending a pop-up card.
Wooden Postcard – Choice of 6 Colors
A big day like this calls for a unique birthday card! This striking wooden postcard is sure to impress even the pickiest senior.
Available in your choice of 6 colors, it's the perfect way to send your own loving 80th birthday message. It's a memorable card that doubles as a fun little gift that he or she will be proud to display.
20 Free Printable 80th Birthday Cards
If you're looking for a way to show your loved one some extra love on their big day, why not print out one of these free printable 80th birthday cards? They'll appreciate the sentiment, and you'll feel good knowing that you helped make their day unique and special.
Just click on any image, and the card will show up in a new window, ready for you to print. The cards even have cut lines marked so it's easy for you to trim them to the correct size.
For best results, print on card stock, matte photo stock or thick paper.
Cards for Mom
Cards for Grandma
Read Related Article: 80th Birthday Gifts Grandma Will Love!
Cards for Dad
Cards for Grandpa
Read Related Article: Best 80th Birthday Gifts for the Grandpa Who Has EVERYTHING!
Funny Birthday Cards
Sentimental Birthday Cards
What to Write in an 80th Birthday Card
For an 80th birthday, a card with a personal message is the perfect way to show how much you care. Whether you choose to go with a traditional design or something more modern, the most important thing is to write a message that comes from the heart.
Here are some tips to get you started:
Start by thinking about the things that make the birthday boy or girl special. What are their favorite hobbies? What is their favorite food? What kind of personality do they have? Use these details to help you write a message that is both personal and memorable.
Next, take some time to think about your own relationship with the birthday celebrant. Are you close friends? Family members?
What are some of your favorite memories together? Use these details to add a personal touch to your message.
Finally, don't forget to wish the birthday celebrant a happy 80th birthday! Finish off your message with warm wishes for a wonderful year ahead.
With these tips in mind, you're sure to write a birthday message that the birthday celebrant will cherish for years to come. Happy writing!